★ Filming on season 15 of Grey's Anatomy resumed this past week and with that the show hit a major milestone. They are currently filming episode 15.15, which is the 332nd episode. Why is that a big deal? Well, the longest-running primetime medical drama was ER (aired on NBC from 1994-2009) which ended its run with 331 episodes. At 332 episodes, Grey's Anatomy is now the longest-running primetime medical drama! A huge congratulations to Justin and the rest of the cast and crew of Grey's on this amazing achievement! 👏🎉🍾🥂❤️
On Thursday (Jan. 10), the cast was interviewed on the set about this milestone. I don't know the air dates for the interviews, but I'll post them here when I do know. In the meantime, here are a two photos of Justin and Camilla Luddington posted by the ABC news team that interviewed them: journalists Juju Chang and Galia Sotomayor, and producer Derick Yanehiro. The full-sized photos can be seen in the BTS album linked below.
Season 15 > Behind-the-scenes / On set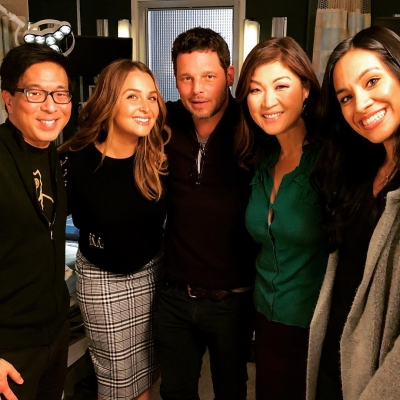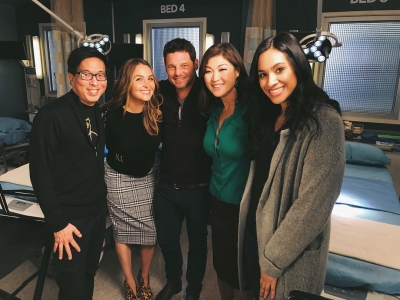 ★ On Friday (Jan. 11), Justin and Camilla filmed on location in downtown Los Angeles and she posted this photo (IG story) of him encouraging her to walk under the ladder, but looks like she's superstitious. 😄 Full-sized photo also in the BTS album.

★ Lastly, Grey's is back next Thursday, January 17th. Check out below the extended promo for the midseason premiere titled "Shelter From the Storm."