We're a little over a week away from the season 13 premiere of Grey's Anatomy, and with that many previews are coming out. Here's a roundup of the Grey's season 13 previews.
★ I added scans of Entertainment Weekly's Fall preview for Grey's Anatomy to the gallery. Click on the thumbnails for the album.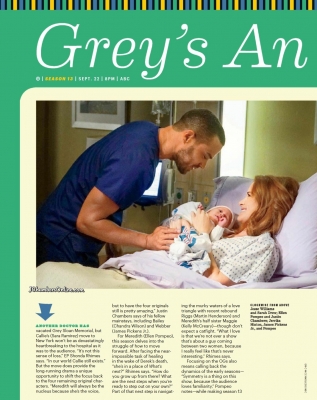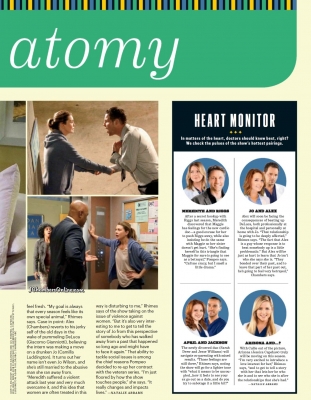 ★ Here is a bit more from Entertainment Weekly, about what's coming for Alex and Jo in Justin's words.
Something about Jolex's storyline on Grey's Anatomy? I love them so much. — Giusina

It won't be long before Alex finds out that Jo Wilson isn't who she says she is. "Obviously, he's going to find out why she can't marry him," Justin Chambers says. "I don't know where that takes them from there, but he's hurt, and he's angry, and he's wrong, but he's also right." Unfortunately for Alex, Jo will have a very strong reaction to what he did. More on that here.

★ This is the Grey's preview from Yahoo! TV.
'Grey's Anatomy' (Sept. 22, 8 p.m., ABC)
This Season's Theme: Relationship drama! Camilla Luddington, who plays intern Jo Wilson, says that the premiere picks up right where the Season 12 finale left off: with Alex (Justin Chambers) just having beaten DeLuca (Giacomo Gianniotti) to a pulp after finding him with Jo and believing the worst. "Dealing with the aftermath is probably the central storyline," she says of the beginning of Season 13. And then there's a love triangle brewing with Meredith (Ellen Pompeo), sister Maggie (Kelly McCreary), and Riggs (Martin Henderson).

Where We Left Off: Owen (Kevin McKidd) and Amelia (Caterina Scorsone) got married, and April (Sarah Drew) gave birth to her baby with Jackson (Jesse Williams). Arizona (Jessica Capshaw) made peace with Callie (Sara Ramirez), who moved to New York with her girlfriend.

Coming Up: The Alex mess is going to weigh heavily on the entire staff of Grey Sloan. "There will be ramifications," Luddington warns. "There's no way to hide what happened." Meredith, meanwhile, has a more lighthearted storyline. "There's a little bit of a love triangle, although I feel like Meredith doesn't want to admit it," she says. "It's a lot of fun. With Grey's, even in the midst of the darkest storylines, they bring another element of comedy somewhere else." And let's not forget the newlyweds! "Amelia and Owen just got married and what does married life look life for two very complicated people who really jumped into it?" Luddington teases.

Career Counseling: Even as Jo grapples with the aftermath of Alex's violent episode, she's still trying to find her place in the hospital. "Of anybody, Jo was connected to Callie, so Jo definitely has to find her place and her specialty," she says. "We see Stephanie (Jerrika Hinton) in neuro, and I think Jo wants that for herself. So this season, I think we'll see Jo finding a mentor, because she lost the person who may have been that."

★ Next up, is the Grey's preview from TV Line.
The Meredith/Nathan/Maggie triangle will go from kinda weird to flat-out awkward as Maggie's crush on McHottie shows no sign of letting up. Nathan, of course, is more interested in jumpstarting her widowed sister's heart, leaving a still-relationship-resistant Mer caught smack right in the middle (what else is new!). Elsewhere, Jo's abusive ex-boyfriend, er, husband will remain an off-screen presence through at least the early fall as she and Alex grapple with the repercussions of his scary pummeling of Andrew. Jackson and April, meanwhile, make a valiant attempt to stay in the Friend Zone while raising their new baby. Good luck with that, kids.

BONUS SPOILER!: As previously reported, Arizona will be MIA the first two episodes; an early episode will reference her being in New York doing the co-parenting thing with Callie.

RETURN DATE: Thursday, Sept. 22 at 8/7c (ABC)