&#9733 Last night's 200th episode of Grey's Anatomy marked a big moment for Justin's character, Alex Karev. The Hollywood Reporter posted an article where Justin, actors James Remar and Camilla Luddington, and Grey's creator Shonda Rhimes weighed in on what's next for Alex.
I won't post the whole article because it's rather long but you can click on the link for the full story. Here's an excerpt:
'Grey's Anatomy': How Will Alex Handle His Father's Return?
Prepare to really get to know Alex Karev on ABC's Grey's Anatomy.

After 10 seasons, the medical drama has introduced Alex's (Justin Chambers) estranged father — currently known as "Junkie Jake" (Dexter's James Remar), who arrived at Grey Sloan Memorial after a heroin-induced car crash.

[…]"We're going to learn a lot about Alex's past and about where he is now," showrunner Shonda Rhimes tells THR of the upcoming arc. "He's been a character who has really struggled with his own morality and being a good guy or not being a good guy. He's gotten really successful at that, and it's going to be interesting whether he backslides in the face of having his dad here or not."

[…]Chambers notes that the details of Alex's childhood that will come up during the story line will highlight just how much he's had to overcome, which will make his accomplishments that much more impressive.

"I'm surprised Alex got through all that and became a doctor," Chambers says. "That's fairly impressive, and that's inspiring for people because you can come from a messed up background and still overcome that and become better for it. Alex turned around and became a better man from it. He still has a lot to learn."
I added a larger version of the pic of Justin and James Remar to our gallery. Click on the link for the behind-the-scenes pics from last night's episode from The Hollywood Reporter.
Promotional Photos > 10.04 – Puttin' on the Ritz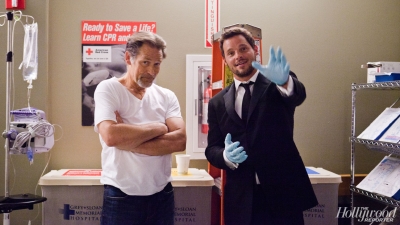 &#9733 TV Guide has a fun Grey's Anatomy photo set where all the cast members tell us how they joined the show. Below is Justin's story but the other stories can be seen at the following link: Grey's Anatomy Hits 200 Episodes
Justin Chambers — Alex Karev
"They had shot the pilot a year before it aired. They felt they needed to tinker with it a little more. I had done a pilot for ABC, [Secret Service], that didn't get picked up. They liked what I did in that, and they brought me in to do a screen test with Ellen. I guess they felt they needed a jerk, so they brought in this jerk. It worked out."
&#9733 The screencaps from episode 10.04 "Puttin' on the Ritz" have been added to the gallery. Click on the link for the album.
&#9733 This is the promo for next Thursday's episode of Grey's Anatomy titled "I Bet It Stung"