★ Keep voting for Justin in the The Male TV Star of the 2018 category of the People's Choice Awards. You can vote 25 times per e-mail address and/or Facebook account, per day at the PCA site HERE.

★ The screencaps from last week's episode of Grey's Anatomy titled "Gut Feeling" have been added to the photo archive.
Screencaps > 15.03 – Gut Feeling

Actor Alex Landi, who plays recurring character Dr. Nico Kim, posted on his Instagram a BTS photo from this episode of himself with Justin, Jaicy Elliot, Jake Borelli, Rushi Kota in the intern locker room. The larger photo can be seen in the BTS photo album.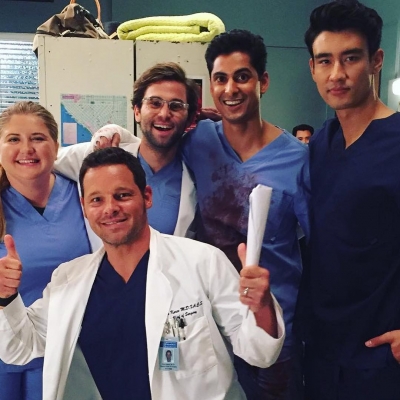 ★ This week, there will be a 2-hour crossover episode between Grey's Anatomy and Station 19, but it seems to me that Justin will not be appearing in the Station 19 episode. Either way, below is the synopsis for the Grey's episode titled "Momma Knows Best" and the crossover promo.
"Momma Knows Best" – Meredith turns heads when she shows up to work done up and ready for her blind date later that day, while Alex makes a questionable decision in order to save a patient. Meanwhile, the burden of knowing Teddy's secret keeps Maggie up at night, ultimately making her decide she has to tell someone, on "Grey's Anatomy," THURSDAY, OCT. 11 (8:00-9:01 p.m. EDT), on The ABC Television Network, streaming and on demand.
PROMO for #GreysAnatomy episode 15.04 titled "Momma Knows Best" airing October 11.

It's a #GreysxStation19 crossover episode. pic.twitter.com/1XLiztDYmG

— JustinChambersOnline (@JChambersOnline) October 5, 2018