★ ABC released promotional photos for Grey's Anatomy episode 15.17 titled "And Dream of Sheep" airing March 17th this week. There is one photo of Justin and it can be seen in high quality at the album linked below.
Promotional Photos > 15.17- And Dream of Sheep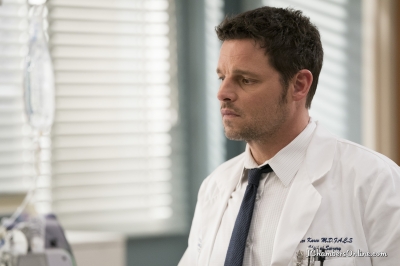 ★ The Hollywood Reporter posted an article about Grey's making history this week when it airs the 332nd episode and surpasses ER as the longest-running primetime medical drama.
The article has quotes from the entire cast and the showrunner (Krista Vernoff), but I'm only posting Justin's. Read it in full at the link.
'Grey's Anatomy' Makes History: How the Shonda Rhimes Hit Surpassed 'ER'
Other castmembers point to medical storylines that have helped viewers diagnose loved ones. Wilson is especially proud of the cyclic vomiting syndrome episode, while Chambers singles out exploring mental illness with Alex's mother in a storyline first planted in the show's early days. But all involved can point to several subjects the series has explored that have helped open minds and let viewers see versions of themselves on TV.
(…)
Everyone on the Grey's call sheet will give credit for the show's creative and ratings resurgence to Vernoff, who as Chambers says, "hit a refresh button and reinvigorated the show."
(…)
As the episode doubles as a celebration of sorts of the record-breaking milestone, the stars all share the same refrain when asked about the significance of doing a whopping 332 hours of television. All involved recall their initial shock that the series few thought would work has become the powerhouse franchise it is today.

"My goal was to do the pilot, take the check and pay some bills!" Wilson recalls with a laugh. Adds Chambers: "When we were in season two, I'd say to everybody, 'Do you think we've got two more years? I just wanted to get my kids to college.' And now some of them are done with it!"
(…)
Of the many notable cast departures, Vernoff, Pompeo and the cast all have quick answers at the ready when asked about which former Grey's co-stars they'd like to bring back to Prospect Studios:

Chambers (Alex): "Richard Edward Herrmann. He played my intern for a while and was such a joy to work with. He passed on but I felt very lucky to work with him."

★ To celebrate reaching a new milestone, ABC put together the following 'By the Numbers' video for Grey's which enumerates the amount of surgeries, weddings, hookups, seriouslys, among other things.