★ Grey's Anatomy filmed for a second day in Seattle on Tuesday (July 25) at Bell Harbor, Bainbridge Island Ferry Terminal and on the Seattle-Bainbridge ferry.
During the day, Justin and a few other Grey's actors gave interviews to Seattle's KOMO News. The interviews will be posted before the season premiere (Sept. 28). Here's a photo of Justin during the interview (high quality photo here):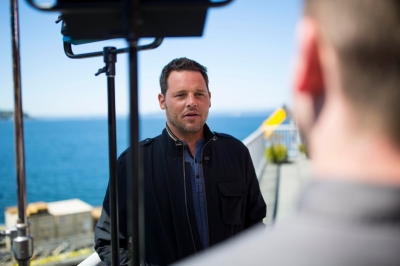 Once again, I've placed the photos posted on social media in an album in the photo archive. The link to the albums and the sources are all below.
Grey's Anatomy > On location in Seattle – July 25, 2017






Sources: 1, 2, 3, 4, 5, 6, 7, 8

★ Jesse Williams posted this photo of himself with Justin & Ellen Pompeo in Seattle.

★ SPOILER ALERT: These videos show Justin on set and filming a scene with Kevin McKidd, Jason George and Jesse Williams. If you don't want to be spoiled, don't watch it…
Alex/Jackson/Owen/Ben running & drinking beer
Jackson putting his shirt on
Owen carrying a fishing rod ?? #GreysS14https://t.co/APCLqKic1o pic.twitter.com/0qvfUpEzab

— JustinChambersOnline (@JChambersOnline) July 29, 2017
Justin Chambers, Kevin McKidd, Jesse Williams & Jason George filming a scene in Seattle. #GreysAnatomy

Guys trip?? https://t.co/ejZGJEMkv2 pic.twitter.com/tEG7Mt5h2s

— JustinChambersOnline (@JChambersOnline) July 26, 2017
I felt like a big time creeper from up here but is okay. @iJesseWilliams @7JustinChambers @TheRealKMcKidd @JasonWGeorge pic.twitter.com/titbpLXUcZ

— Cynthia Gonzalez?? (@Cynisterr_G) July 26, 2017