Once again I'm posting some behind-the-scenes pics from this season of Grey's Anatomy. First off, a pic from this past Friday where Justin is posing with Camilla Luddington (who plays intern Jo Wilson) and an extra. They are currently filming episode 9.16 (title unknown). Click on the thumbnail for the bigger pic.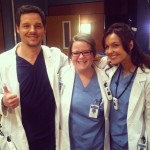 Next, I added some more pics to the season 9 miscellaneous on set/BTS album. One pic is from episode 9.07 "I Was Made for Lovin' You" and features Justin with Jessica Capshaw (who plays Arizona Robbins), director Laura Innes and guest star Ethan Dizon who played a patient in the episode. Two other pics are from upcoming episode 9.13 "Bad Blood" (airing Jan. 31) and feature Justin with Jessica Capshaw, Sara Ramirez (who plays Callie Torres) and guest star Lexi DiBenedetto. Click on the link for the album.
Special Message: Part of what makes being a fan of something/someone fun is meeting and getting to know other fans. We would like to give a very special THANK YOU to Amanda and Kay from The Seriously Grey's Podcast for giving Justin Chambers Online a shout-out on their latest podcast and for the sweet things they said. Amanda and Kay do a podcast after every episode of Grey's Anatomy has aired where they discuss storylines and characters. It's an insightful conversation by two lovely ladies (sometimes three ladies when their friend Sam joins them) who love Grey's Anatomy and if you would like to listen to their podcast you can find them all at their Tumblr page: The Seriously Grey's Podcast or on iTunes. You can also follow them on Twitter at https://twitter.com/tsgpodcast
Additionally, our friend Mai maintains a Justin Chambers fan page on Twitter where she tweets the latest pics and news. Another THANK YOU goes out to Mai for linking to this site and for keeping other Justin fans informed. If you are on Twitter you should be following WeLoveJC.
To The Seriously Grey's Podcast and WeLoveJC, we truly appreciate the support! 🙂