With the upcoming release on July 30 of the DVD/Blu-ray of DC Comics' Justice League: The Flashpoint Paradox, Warner Bros. release a few interview clips of Justin discussing the story, the script an working with his Grey's co-star Kevin McKidd who voices Batman/Thomas Wayne in the movie.
The animated movie has been getting great reviews and Justin's voice acting has been praised. You can read a few reviews at the following links:
Justin Chambers as The Flash is a natural. Chambers conveys equal parts intellect, stalwart heroism, cocky optimism and human warmth.
As for the cast, they all come out shinning, there wasn't a single weak link among them, and while some characters only received one or two lines of dialogue, they all sounded believable. Justin Chambers as the Flash was an ideal choice
Justin Chambers voices a convincing Barry Alan and I'll be able to put a voice to the character when I purchase his comics.
Here are a few more pics of Justin last weekend. Click on the thumbnails and links for bigger versions of the pics.
On Tumblr – Justin Chambers at SDCC 2013 for the Justice League: the Flashpoint Paradox signing
Finally, a pic of the whole group representing JL:TFP at the San Diego Comic-Com.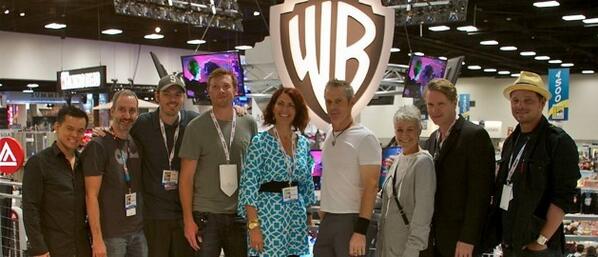 L – R: Jay Oliva (director), James Krieg (screenplay writer), Phil Bourassa (character designer), Sam Daly (voice – Superman), Vanessa Marshall (voice – Wonder Woman), C. Thomas Howell (voice – Professor Zoom / Eobard Thawne), Andrea Romano (Dialogue Director), Cary Elwes (voice – Aquaman), Justin Chambers (voice – The Flash/Barry Allen)