★ Last week's episode of Grey's marked Ellen Pompeo's directorial debut. In an article posted by The Hollywood Reporter, Justin had this to say about Ellen as a director:
For his part, Grey's co-star Justin Chambers (Alex) describes his longtime co-star as an "actor's director" and notes that he's proud of Pompeo for stepping behind the camera and taking on a greater leadership role with the series.

"She really seems like a natural," he says. "Think about it: She's been here for 13 seasons. She's seen everyone come and go and worked with so many directors that she probably has taken something from everyone. And she knows these characters. I call her Girl Friday because she's a smart woman and she can watch, sit back and take it all in and knows everyone so well."

★ I've added screencaps to the gallery of Justin's brief appearance in the most recent episode of Grey's Anatomy.
Screencaps > 13.18 – Be Still, My Soul
Ellen's friend, Sam Hellmann, posted a couple of BTS photos on her Instagram of Ellen directing and included one of Justin on set. For the bigger pic & other BTS, check out the album linked below.

Season 13 > Behind the Scenes/ On Set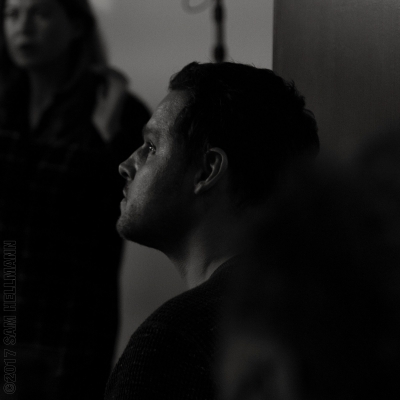 ★ Next episode of Grey's airs Thursday, April 6 and is titled "What's Inside." Check out the synopsis and promo below.
"What's Inside" – When Maggie takes on a big case, many of the doctors are worried she's not the right one for the job while Stephanie makes a mistake, treating one of Grey Sloan's own, on "Grey's Anatomy," THURSDAY, APRIL 6 (8:00-9:01 p.m. EDT), on The ABC Television Network.
Know your limits. #GreysAnatomy pic.twitter.com/ljyJrsySSg

— Greys Anatomy (@GreysABC) April 1, 2017