★ The screencaps from Grey's Anatomy episode 15.06 titled "Flowers Grow Out of My Grave" are now up at the photo archive.
Screencaps > 15.06 – Flowers Grow Out of My Grave


Grey's medical consultant, Michael Metzner, also posted as an Instagram story the following BTS photo of Justin and Ellen Pompeo. This photo and others can be seen in full size at the BTS album linked below.

Season 15 > Behind-the-scenes / On set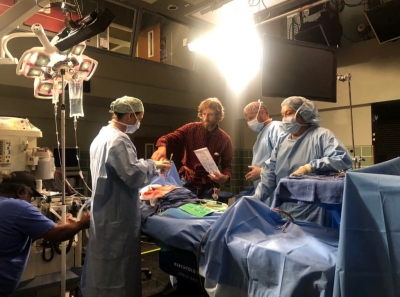 ★ This Thursday (Wednesday for CTV viewers), the episode is titled "Anybody Have a Map?" and the synopsis and promo can be seen below.
"Anybody Have a Map?" – Catherine is in Los Angeles getting the new foundation ready and summons Meredith and Koracick to visit for a highly confidential consult. Meanwhile, one of the nurses is 28 weeks pregnant and collapses at the hospital while talking to Richard, on "Grey's Anatomy," THURSDAY, NOV. 8 (8:00-9:01 p.m. EST), on The ABC Television Network, streaming and on demand.