★ Season 15 of Grey's Anatomy has come to an end, and at 25 episodes it was a long one! The show is now on hiatus until the season 16 premiere in late September 2019. As to the cast and crew, they are enjoying their well-deserved break with production on season 16 starting in late July. So, congratulations to all on completing another season and happy hiatus! 😎🍹

★ Now on to the updates… To start off, I added to the archive a scan of the article in the current issue of People magazine titled "How Grey's Changed Its Stars' Lives," where Justin and a few other cast members say how the show has impacted them. Click on the preview pic for the album.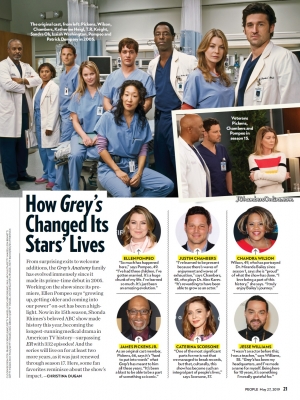 ★ ABC released 3 more stills and a BTS photo from the Grey's season finale titled "Jump into the Fog" and they have been added to the archive, as well as the screencaps from the episode. The links to the respective albums are below.
Promotional Photos > 15.25 – Jump into the Fog


Screencaps > 15.25 – Jump into the Fog


★ Here are a few BTS photos posted on Instagram. First, young actor Christian Ganiere, who did a fantastic job playing Gus in the finale and several previous episodes, posted this pic with Justin saying it was an amazing experience shooting with him and he's the nicest guy ever.

Grey's set costumer, Andrea Medina, posted a few photos (swipe to see them) of her working on Justin when they were shooting the season finale, and she says he's "the best."

Next, actress Ali Hillis (played Gus's mother) posted another BTS pic from episode 15.24 titled "Drawn to the Blood" featuring Justin, actor Greg Winter (played Gus's father), and Gus's scattered Legos.

And to wrap this update post, Alex Blue Davis (Dr. Casey Parker), posted a throwback photo of himself on set with Justin in episode 15.13 "I Walk the Line," I believe.