I should've mentioned this before, but better later than never. It's impossible for me to get my hands on every single interview that comes out in different countries. If anyone wants to share an article or interview (any language – I'll deal with translating it, if I can) and would be willing to send in the scan(s), it would be greatly appreciated and you'll be credited. You can e-mail me at: diana6022@gmail.com . Thanks! 🙂

Here is another interview Justin gave while doing press for 'Grey's Anatomy' this summer in Europe. The scan of the interview has been added to the gallery (click on the image for the album) and the english translation is below.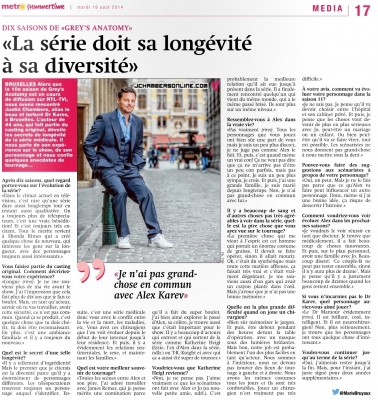 Metro – August 19, 2014
«Grey's Anatomy owes its success to its diversity.»

While the 10th season of Grey's Anatomy will resume September 16 on VIJF, we met Justin Chambers, aka the handsome and tortured Dr. Karev on the popular medical drama. The 44-year-old actor, who is part of the original cast, reveals the secret of this longevity. He talks about his character, his experience on the show and also tells us a few anecdotes from filming.

After ten seasons, how do you see the evolution of the series?
In the current television climate, it is rare that a show lasts so long while still having quality. There are always more viewers, this is a true blessing! And it's always very exciting. All the credit goes to Shonda Rhimes, who has created something new, that has kept people interested, with characters who are always interesting.

You are part of the original cast. How would you describe your experience?
Long (laughs). I can't remember my life before the show. I feel that it's been over ten years that I've been doing this. But as an actor, to know where you go to work, have this security, it's not common. When that happens, it's something that you should cherish and be grateful. And in addition, we don't drag our feet to work, it's a family atmosphere and there is always something new.

What is the secret of such longevity?
There are so many ingredients! But the first one I would mention is the diversity because there are so many different characters. Viewers always find a character that they can identify with. Then, it's a medical drama so you have the conflict between life and death, illness, etc. You have this hospital but especially these surgeons that we've seen evolve since the beginning of their internship to their residency. And then, there are obviously romantic relationships, sex, and now their families.


What is your best filming memory?
All scenes between Alex and his father. I loved working with James Remar who I think deserves a nomination because he did a great job. I enjoyed exploring Alex's past, his anger, I also find that it was important for the show. There are a lot of actors that entered and left the show like Katherine Heigl (Izzie, Alex's ex in the show, Ed.) or TR Knight with whom it was also great to film.

Would you like Katherine Heigl to return?
No, I don't think so. I really like what the writers have done with Alex and Jo (his new girlfriend, Ed.). This is probably the best relationship he has had so far on the show. He finally met someone who comes from the same world, who has the same broken past. They are more on the same level.

Do you resemble Alex in real life?
Not really (laughs). All the characters you play have, of course, a part of you but I'm a little more discreet, I don't judge like Alex does. And then, he's still a real jerk! That doesn't mean that I don't manage to be a bit of a jerk sometimes but not to this extent. I'm a little more fun, I think. And I have a big family; I've been married for a long time. No, I don't have much in common with him.

There is a lot of blood and other things not very pleasant to see on the show. What's the worst thing you've seen on the set?
The first thing that comes to mind is the man who wore a huge fat suit. He had to have surgery, otherwise he would die. Ok, it was synthetic but all that awful material, it was very real and it was really disgusting. I also remember a guy who had a pencil stuck in the eye. But I admit that I don't have a good memory.

What is the biggest challenge when playing a surgeon?
Of course, memorizing the jargon. And then, standing for hours before the operating table with a mask under hot lights. But hey, our job is probably one of the easiest as an actor. We're inside, we don't need to find shooting locations left and right. We have the same costumes every day and they are very comfortable. Playing a surgeon is really not very difficult.

In your opinion, how will your character evolve in season 11?
I don't know. I think he will have to choose between the hospital and private practice. And then, I think things will become more and more serious with Jo, perhaps a wedding or a child. Or maybe he will get fired, everything is possible. The writers don't give us much to sink our teeth into.

Can you make suggestions to the writers about your character?
Yes, we can. But I don't do it because what Alex will do can influence another character. So even though I have a good idea, it risks being a disservice to the story.

How would you like to see Alex evolve in the next seasons?
I would like to see him succeed as a doctor. I find that medically, he has done a lot of innovative things. And then, on a personal level, have a family with Jo. Many say: 'this couple cannot stay together; otherwise there won't be anymore drama'. But I think there's precisely a lot of drama when people stay together.

If you didn't embody Dr Karev, what character would you have liked to play?
McDreamy, obviously. He is brilliant, cool, intelligent. And he's a neurosurgeon! But seriously, I find that the characters all have something interesting.

Do you want to continue until the end of the series?
Yes, I would like to stay until the end. But, for now, I just signed for two more years.