★ TV Line compiled a list of Season 13's most heartbreaking moments so far. Alex is a part of five out of the ten moments chosen. The first part of the season was pretty good for us Justin/Alex fans (i.e. he had a lot of scenes/story and there some really great ones). 😉
Full list can be seen at TV Line, below are the moments involving Alex.

🔸 'As Long as We Can'

Who didn't want a hug — and breakfast — after Alex told Mer that, until he was jailed, he wanted to have Waffle Sundays "like a family, all of us"?


🔸 'I Should've Told You'

Even more crushing than Jo's confession to Alex that she was wed to an abusive husband was her attempt to make her estranged almost-fiancé believe that, if she fled post-trial, he wasn't to blame.


🔸 Fatherly Advice

… until, that is, Jeremy freaked out, prompting Alex to sweetly reassure him that "there's only one trick" to being a good dad: "Show up."


🔸 'Goodbye, Mer'

Grey assured Alex in "You Haven't Done Nothin'" that, even if he stupidly took the plea and went to jail, she'd be fine. But watching him say farewell to her, we weren't sure that we would be.



🔸 'It Almost Killed Me'

We broke down right along with Amelia when, during "Roar," she revealed to Alex the whole sad story of her son's 43-minute life.

★ Actress Leigh Bush, who played the D.A.'s assistant in the Grey's Anatomy winter finale (episode 13.09), will be making an appearance in another episode, presumably the winter premiere on January 19. She tweeted another pic from her second episode with Justin and actor Reginald Hudlin on set.
A larger version of this pic and other BTS pics from season 13 (including Leigh's first one with Justin) can be seen in the Behind-the-scenes/ On Set album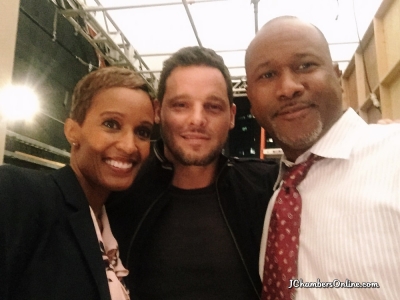 P.S. – 👇👇👇 Link is in the tweet. Use it. Vote. Thank you.🌹
Vote (over & over again) for Justin Chambers to win Favorite Dramatic TV Actor at the People's Choice Awards 2017!?? https://t.co/WHMUzMpqlk pic.twitter.com/JRkTDdVLJq

— JustinChambersOnline (@JChambersOnline) November 28, 2016